🦋【NEWEST VERSON-BIG SIZE 】: Our popular big pop bubble toys are larger than other toys. The various colors give you a different look and feel. You can enjoy more in each round and provide more choices and entertainment. The most enjoyable fidget sensory toy, even grownups can play too! Young or old, this unique push pop fidget toy provides endless hours of fidget fun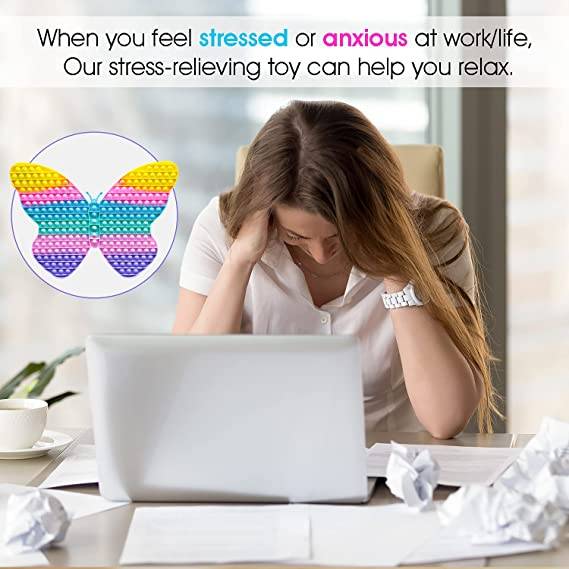 🦋【GREAT FOR ANXIETY & STRESS RELIEF】: Pop bubble push fidget is a great toy for the person with autism, the elderly, adults, and children who need to relieve stress. It will effectively help to relieve anxiety and stress, restore the mood. "Pop, Pop, Pop" sounds very enjoyable and decompressed. This push pop sensory toy is the best stress relief toy for kids and adults, and gives you calmness, concentration, in-the-moment effect.
🦋【COMFORTABLE BUBBLES】: The huge pop toy has endless fun, just press the mouse bubbles down and they make a slight popping sound, then flip it over and start again. Push Pop stress toy is made of 100% silicone, non-toxic and no odour, completely corresponds to the safety standards. This butterfly toy is skin friendly and provides great opportunity for younger player to gain strategic thinking skill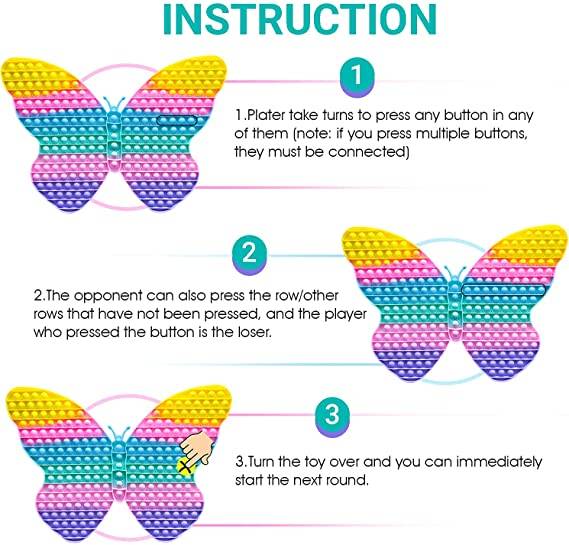 🦋【HOW TO PLAY INSTRUCTION INCLUDED】: The player can press any bubbles in any row, Who pressed the last bubble will be a loser that can exercise children's mathematical thinking, reasoning strategy, mental arithmetic, logical thinking, and fine motor skills. Players take turns pressing down any number on butterfly toy they wish in a single row and in this way they learn counting, and develop strategic thinking
🦋【PERFECT GIFT】: Sensory toys help restore the mood, home essentials, parent-child games, autism, games that the elderly, children, and adults can play. A great gift for Birthday, Christmas, Thanksgiving, Halloween, Parties, carnival parties, garden parties, etc. Wash the push pop fidget toy with warm water and soap if needed.